Theme: S2 Flexible Squares
Browser: Firefox 800x600+, aligns weirdly in IE.
ENABLED: Custom comment pages, sidebar (horizontal), div-contexual pop-up, tiny icons.
TURNED OFF: Title/subtitle, sidebar calendar and tags.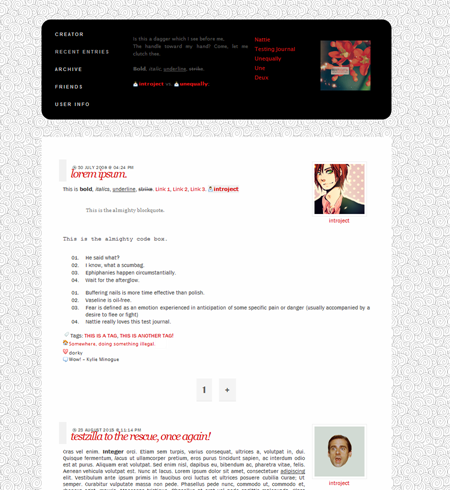 Live | Image


Codes:


- Yes, you can put in a header. Just head over to the

FAQ

for how to set one up.

- If you're not feeling the rounded corners from the sidebar, take out all instances of

-moz-border-radius: 2.5%;

from it.

SET-UP?

1)

Customize CSS page

, select S2 Flexible Squares.

2)

Custom CSS

, pull all drop-downs to

no

. !!!important

3) Copy and paste above CSS into '

Custom stylesheet

'

4) Hit save changes, and you're done!

- Tiny icons =

pinvoke

.

- Background texture by

cielo_gris

. :)

- Please credit

introject

and/or

unequally

.

- Comments, questions, fries with that? Post!